Link to Facebook event Banner Making
Link to Facebook Demonstration
Link to Facebook event boycott
Link to radar OSLO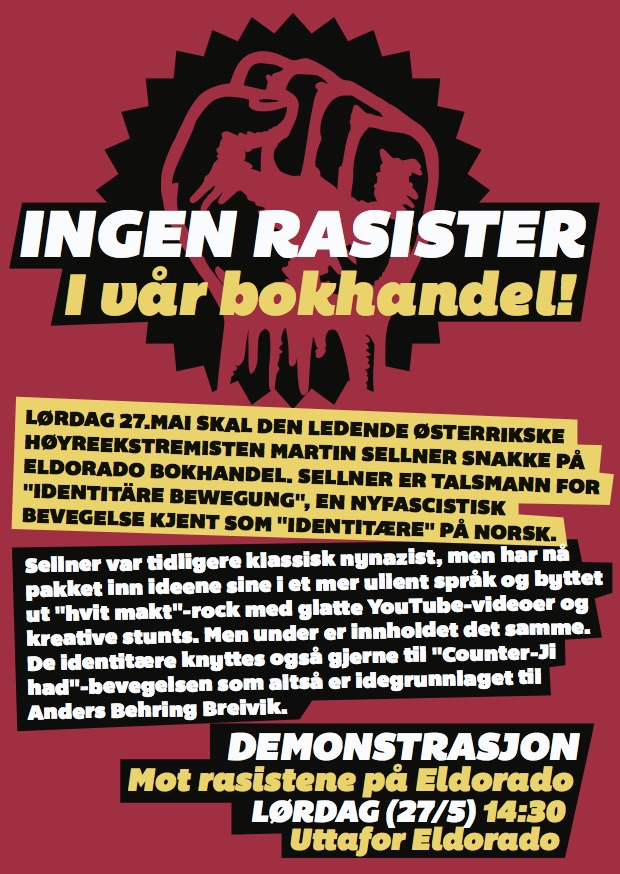 STOPP HATPRATET, IKKE LA DET FÅ SLIPPE TIL I OSLO SENTRUM! BOIKOTT ELDORADO!
Dette er saken:
Lørdag 27.mai skal den ledende østerrikske høyreekstremisten Martin Sellner snakke på Eldorado bokhandel. Sellner er talsmann for "Identitäre Bewegung", en nyfascistisk bevegelse kjent som "identitære" på norsk. Sellner var tidligere klassisk nynazist, men har nå pakket inn ideene sine i et mer ullent språk og byttet ut "hvit makt"-rock med glatte YouTube-videoer og kreative stunts. Men under er innholdet det samme. De identitære knyttes også gjerne til "Counter-Jihad"-bevegelsen som altså er idegrunnlaget til Anders Behring Breivik.
Eldorado er godt kjent med innholdet på møtet, men synes likevel det er en god ide å slippe til denne typen innledere i sitt lokale. De ønsker en "fri og åpen debatt". Akkurat hvordan debatten skal bli fri og åpen når premisset er at Europa må gjennomføre en etnisk rensing for å "reddes" har de ikke svart på.
Vi ønsker ikke denne typen hatprat, og oppfordrer alle til å være med å legge press på Eldorado for å stoppe dette møtet.
– Organisjoner som har planlagt arrangement bør flytte møtene sine vekk fra Eldorado for å ikke være med å gi legitimitet til høyreekstreme møter
– Forlag bør droppe markedsføringsavtaler og annet direkte samarbeid med Eldorado.
– Bokelskere bør kjøpe bøkene sine andre steder.
Spørsmål og svar:
– MEN HVA MED YTRINGSFRIHETEN?
Ytringsfrihet er en bra ting, det betyr at du ikke havner i fengsel for å mene upopulære ting. Men ytringsfriheten forplikter ingen til å stille lokaler for hatprat som dette er. Ved å stille lokaler til rådighet så bidrar man direkte til fascistisk organisering. Det kan man velge å la være med.
En fri og åpen debatt er også et gode, men hatprat er et direkte hinder for en fri og åpen debatt. Det utelukker de som er rammet ikke bare fra å delta i debatten om seg selv, men hindrer dem også aktivt fra å delta i andre debatter. Og akkurat som vi ikke trenger en fri og åpen debatt om hvorvidt jorden er flat eller om den er 6000 år gammel, trenger vi ikke en åpen debatt på rasistiske premisser. De identitæres premiss er at europeisk kultur er truet og den bare kan reddes hvis vi kaster ut alle med ikke-europeisk bakgrunn, det som i praksis vil være etnisk rensing.
– BURDE IKKE ELDORADO FÅ SVARE FOR SEG?
Vi har snakket med dem, men ikke fått svar. Om Eldorado dropper arrangement så dropper vi boikotten.
– HVORFOR PÅSTÅR DERE AT IDENTIÆRE ER FASCISTER OG RASISTER?
En kort sammenligning av klassiske rasistisk ordbruk og identitæres begreper forklarer dette ganske greit:
* Det identitære begrepet "etno-pluralisme":
Identitære hevder at de er for mangfold og ikke er rasister, men grunnideen om "etno-pluralisme" er at man skal ha etnisk mangfold ved at alle holder seg på samme sted. Eller som klassiske rasister ville sagt det "Ett folk – ett land", eller "Norge for nordmenn", eller det sør-afrikanske "apartheid".
* Begrepet "remigrasjon":
En fin måte å si at alle innvandrere skal reise hjem igjen på. Som en klassisk rasist ville sagt det "Pakis – go home"
* begrepet "identitær":
Identitære hevder ofte de ikke er rasister, men de vil forsvare "identiteten til hvite europere" mot muslimer og andre ikke-europiske innvandrere.
Lenker om identitære:
– Sak om Martin Sellner og de identitære i The Economist: http://www.economist.com/news/europe/21709986-france-austria-identitarian-movement-gives-xenophobia-youthful-edge-meet-ib
– "Identitærene kjem" i Humanist: https://humanist.no/2014/11/identitaerane-kjem/
---
The leading Austrian right wing extremist Martin Sellner will be speaking at the Eldorado bookstore in Oslo on saturday the 27th of May. Sellner is the spokesperson for the "Identitäre Bewegung" a neo-fascist movement known as "identitarian" in english. Sellner is a formerly classical neo-nazi, but has now polished his ideas with bigger words and gone from "white power"- rock to slick youtube videos and creative stunts, but below the suface the content ramains the same. The identitarians are often associated with the "Counter-Jihad" movement, the base of Anders Behring Breivik's ideology.
Eldorado is very familiar with the content of this event, but still think it's a good idea to let Sellner into their locals. They say they want a "free and open debate", but how can a debate be free and open when the entire premise is that Europe needs to be ethnically cleansed to be saved. They've yet to answer us on this.
We do not want this kind of hate speech and encourage you all to put pressure on Eldorado to stop this event from happening.
-Organizations that have events planned at Eldorado should cancel or move their events away from Eldorado to prevent giving legitimazy to fascist or otherwise right-wing extremist speakers and events.
-Publishers should drop marketing deals and any other direct involvement with Eldorado.
-Booklovers should buy their books elsewhere.
FAQ:
-BUT WHAT ABOUT FREEDOM OF SPEECH?
Freedom of speech is a good thing, it means you won't be put in jail for having unpopular opinions, but freedom of speech doesn't mean you can't be denied a platform to spread hate-speech like in this instance. By giving room for events like this you are directly enabling fascist organizing.
Free and open debate is another good thing, but that and hate speech are inherently incompatible. It's not only preventing the affected from participating in the actual debate, but also other debates. And just like we don't need a free and open debate on whether the earth is flat or if it's 6000 years old, we really don't need a debate on racist premises. The identitarian's premise is that the European culture and identity is threatened, and can only be saved by deporting everyone from a non-european background, which in practice would be ethnical cleansing.
– SHOULDN'T ELDORADO GET A CHANCE TO ANSWER?
We have spoken to them, but recieved no answer. If Eldorado drops the event we'll drop the boycott.
– WHY DO YOU CALL THE IDENTITARIANS RACISTS AND FASCISTS?
A quick comparison between classic racist rethoric and identitarian phrases summarises this pretty easily
* The identitarian phrase is "ethnopluralism":
Identitarians claim to be pro-diversity and not racists, but their ideology of "ethnopluralism" is based on the idea of a diverse society where everyone stays in the same place and cultures don't mix, or how classical racists would put it "one people – one country" or "Norway for Norwegians"
Phrase: "remigration":
A nice way to say that all immigrants should return to their place of origin or like a classic racist would say "go back to where you came from"
* Phrase: "Identitarian":
Identitarians often claim to be against racism, but their goal is to defend the "identity of white europeans" against muslims and non-europeans.
Links about identitarians:
– The Economist article on Martin Sellner and the identitarians: http://www.economist.com/news/europe/21709986-france-austria-identitarian-movement-gives-xenophobia-youthful-edge-meet-ib
---
يوم السبت الموافق ال٢٧ من مايو سيتحدث احذ زعماء اليمين المتطرف النمساوي مارتن بالمر في مكتبه "الدورادو" في أسلو. و يعتبر بالمر المتحدث الرسمي لحركة" Identitäre Bewegung" " ، و هي حركه نيو فاشيه  تعرف باسم الإدينتيتاريان, أوidentitarian  بالإنجليزيه. و قد كان بالمر احد مناهضي النيو نازيه في أوروبا، حتي غير من توجهاته و توسع من مفهوم "سيادة البيض" إلي عالم الyoutube  و الحيل الذكيه. و لكن يبقي بالمر تحت هذا الغلاف مؤيدا لنفس الأفكار الفاشيه. و قد تعلقت حركة الأيدنتتاريان بالحركة المناهضة للجهاد الإسلامي، التي أسس عليها أندريس بهرينج بريفيك أيديولوجيته.
ورغم إدراك إالدورادو بمحتوي كلمه بالمر، إلا انهم يعتقدون ان ضمه لصفوفهم فكره سديده. و رغم انهم يزعمون انهم يطمحون  في حوار "حر و مفتوح"، فكيف لحوار ان يكون حرا أو مفتوحا إذا بني علي حتميه الإبادة العرقية لغير الآريين في أوروبا. لهذا السؤال لم نجد رد.
نحن نطالب بمنع ذلك النمط من الكراهيه الفكريه و نحثكم علي الضغط عي مكتبه إلدورادو لإيقاف الحدث.
– علي الشركات التي نظمت احداثها في إلدورادو ان تلغي الأحداث أو ان تغير من مكانها. وهذا  لسحب الشرعية من الفاشيين و المنتمين لليمين المتطرف.
-علي الناشريين مقاطعة المكتبة و إيقاف صفقات الدعاية و قطع أي صله بالمكتبة.
-علي محبي الكتب شراء النصوص من مكتبات أخرى.
أسئلة:
= و لكن ماذا عن حرية التعبير؟
حرية التعبير شئ مهم، وهي  تحمي أصحاب الأفكار غير التقليدية من السجن. و لكن تلك لحريه لا تعني انه ليس من الممكن سحب منبر لنشر الكراهية ضد قطاع من الناس كما في حاله بالمر. السماح لهذه المناسبات بالحدوث هو سماح وتمكين للفكر الفاشي.
الحوار الحر و المفتوح شيء آخر مهم، و لكنه يتعارض موضوعيا مع الحوار المناهض للكراهيه. فهو مبني على منع القطاع المتأثر من الحوار من المشاركة في الحوار نفسه، ومن  المحاورة بشكل عام! وبما  أننا لا نحتاج الى حوار عن بيضوية الأرض، أو عن عمر الأرض، فنحن أيضا لا نحتاج الي حوار علي أسس عنصريه. فأنصار حركة الإيدينتتاريان يعتقدون أن الثقافة الأوروبية تحت التهديد وأن  الطريقة الوحيدة لإنقاذها هي ترحيل كل الغير أوروبيين، و هو ما يعتبر ممارسة عملية للتطهير العرقي.
=وماذا عن حق إالدورادو في الرد
لقد راسلنا الدورادو عدة مرات ولم  يردوا. إذا قرروا الغاء الحدث سنلغي المقاطعة.
=ولكن لما تتهمون حركة الأيدنتتاريان بالعنصرية و الفاشية؟
مقارنه سريعة بين الخطاب التقليدي العنصري و خطاب الأيدنتتاريان الحالي سيوضح الصورة تماما.
الخطاب الإيدنتتاري هو شموليه عرقيه:
الإيدنتتاريين يزعمون دعمهم لتعدد الأعراق و لكن أيديولوجيتهم تعتمد علي أساس مجتمعي حيث لا تختلط الأعراق و حيث يلتزم كل عرق ببلد موطن وحيد. وهو ما يسميه العنصريين التقليديين " وطن واحد.. لشعب واحد" أو بشعارات ك"النرويج للنروجيين"
مصطلح "إعاده التهجير":
هو طريقه أقل حده للمطالبة بإعادة المهاجرين و اللاجئين الى مواطنهم. أو كما يقال في الخطاب العنصري التقليدي "عودوا مما جئتم".
مصطلح "الأيدنتتاريان"
تزعم حركه الأيدنتتاريان انها غير عنصريه، و لكن هدفها المعلن الدفاع عن الهويه الأوروبيه البيضاء في وجه المسلمين و غير الأوروبيين.
روابط عن حركة الأيدنتتاريان
مقال في ال Ecnonomist عن الحركه:
http://www.economist.com/news/europe/21709986-france-austria-identitarian-movement-gives-xenophobia-youthful-edge-meet-ib