Benefit and screening: Climbing Walls Making Bridges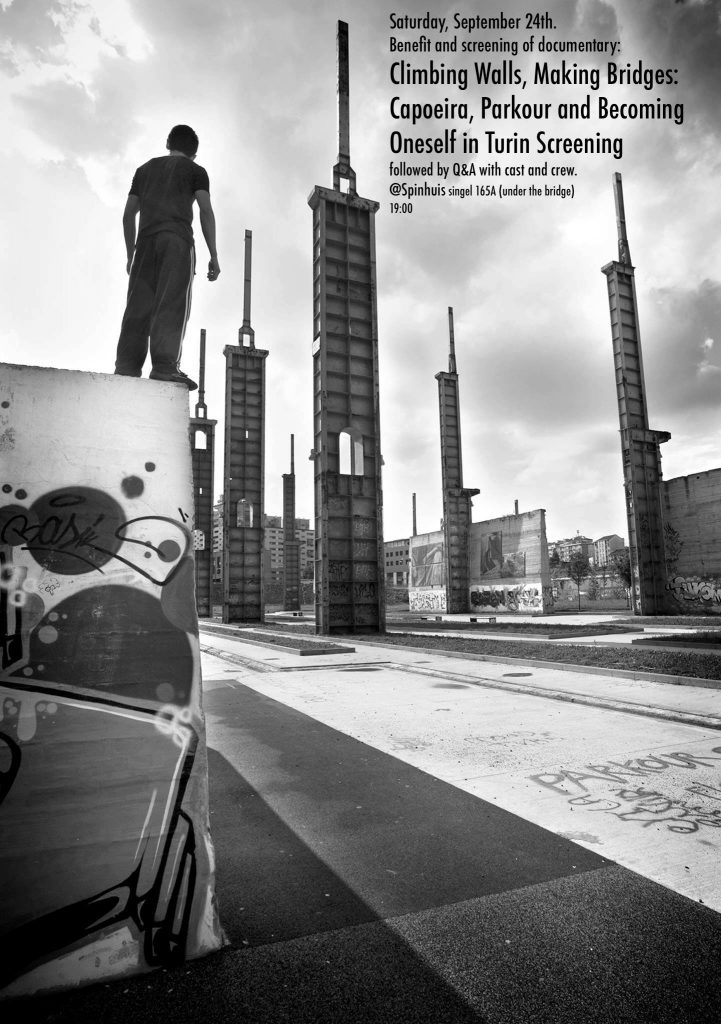 Saturday, September 24th. Benefit and screening of documentary: Climbing Walls, Making Bridges: Capoeira, Parkour and Becoming Oneself in Turin (documentary, 32 mins.). Screening followed by Q&A with cast and crew. Doors and bar open at 7pm. Screening at 8pm.
"Climbing Walls, Making Bridges"is a thirty-two minute collective narrative. The story-tellers are eight young men who practice capoeira and parkour in the public spaces of Turin (Italy), and who narrate the city through their voices, eyes and movements. The project started as a "creative" instrument of ethnographic research, and evolved into an opportunity for co-constructing a participated narration, which involved a total of eleven people (eight participants, and three producers) for eighteen months of work. This narrative articulates several individual stories that cannot be separated from their social, political, and historical context, and through these stories, it addresses migration, belonging and the daily negotiation of meaning and identity in multicultural/super-diverse societies. These issues affect deeply each one of the participants' daily lives, and regards everyone: citizens, activists, and cultural workers alike. Far from providing answers, theories or models to complex and crucial issues, this documentary instead aims to provide meaningful questions, and the possibility to highlight some of the (in)visible negotiations of self, place and belonging that are enacted daily in our urban spaces.
Trailer: https://www.youtube.com/watch?v=T3zG7CDKwjY
Info and support:  [www.facebook.com/Climbing-Walls-Making-Bridges-1637701486495065/]