ALERTA ALERTA MAY 6-8 2016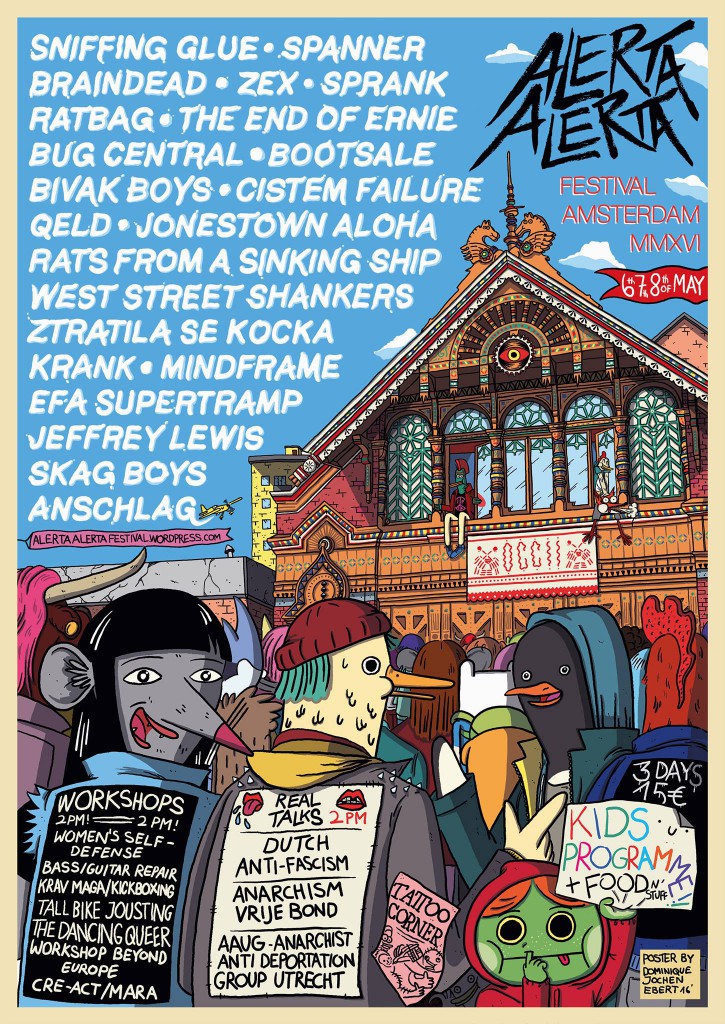 Antifascist benefit festival in Amsterdam. Three days of music with 24 bands, stalls, workshops, talks, films, vegan food, kids activities and lots more to be announced in the upcoming months.
Get involved! Perhaps you have a distro or an idea for a workshop? Contact us at alertaalerta@riseup.net
We are fully booked for bands and are not taking anymore requests but thanks to all that have contacted us and wanted to support the festival. We wish we could fit you all in!! You're welcome to email us and if someone drops out we will keep you in mind.
+++ BANDS +++
SNIFFING GLUE (GER)
Playing straight forward 80's hardcore punk in your face since 2006 they have released multiple records and toured even more.
"But as you read this kind of shit everywhere, just come along to one of our shows and get your ass kicked by punk." -sniffing glue
We are Sniffing Glue-fuck you!
sniffingglue.de
https://www.facebook.com/sniffinggluepunk/
EFA SUPERTRAMP (UK)
Efa Supertramp is a folk punk singer/songwriter from Wales. Making a name for herself in the underground scene in the UK with her truthful attitude to life and politics. Her songs are angry but uplifting. Efa has been playing gigs since the age of 15 when she started Welsh punk band The Stilletoes. She has since toured all over the UK and Europe, playing in protests, squats, street corners, living rooms, bars and festivals, and has supported punk legends such as The Damned, TV Smith (The Adverts), Viv Albertine (The Slits) and Attila The Stockbroker. After touring Europe last year as a solo artist, experiencing grassroots and DIY projects, Efa was inspired to put on shows and start a label called 'Afiach' to release radical Welsh music.
https://www.facebook.com/EfaSupertramp
https://afiach.bandcamp.com/
SPANNER (UK)
Looking forward to UK ska punks SPANNER!! Knock out in-yer-face political punky ska from Bristol, England. They almost exclusively play benefit gigs at grassroots / DIY venues.
"Spanner has been mixing politics and pleasure since around 2000, and we aim to still be at it when it's time for dancing on the ruins of the empire. We're taking bookings for the after party now! Our sound is a small contribution to the soundtrack to revolution and we hope to inspire both much dancing and more direct action. We play militant, ska'd up punk that's not just for entertaining "alternative" consumers or being part of the illusion of rebellion. Punk for us has to be more than noise and more than a hairdo. We want punk and punks to be part of a community in opposition and resistance to this murderous system which leaves everything it touches damaged or dead. We know that with our creativity and determination we can make a new world, and punk is about doing it now! We'd also very much like our music to strike fear into the hearts of capitalists, cops, bosses and politicians everywhere… if only they could hear the words!"
http://spannerintheworks.net/
https://www.facebook.com/spanner.easton/?fref=ts
BRAINDEAD (DE)
Ska/Dub/Punk/Hardcore from Hamburg, Germany.
Braindead set out to play political Punk/Ska/Dub, musically influenced by Bands such as Operation Ivy, P.A.I.N. and Dub Trio (not too mention all the radical Roots Reggae artists), but also Hardcore bands like F-Minus or Spazz. Being true to the DIY fashion of political Punk, they do most of the work like booking, printing shirts or creating artwork for flyers and records themselves or with help from close friends, and have played every thinkable venue from squatted house basements, action camps, boats, youth centers, festivals, and so on. The band is always happy to play benefit gigs for political causes they support.
https://www.facebook.com/braindeadskacore/?fref=ts
http://braindeadpunk.bandcamp.com/
SPRANK (NL)
A subversive folk trio that originated in the Gelderland countryside. Seem to thrive best in cozy living rooms and cozy eetcafes. Shooting up on any street corner with klezmer tinged waltzes filled with critical speeches that bring out the dancing mood!!
https://sprankband.wordpress.com/
https://sprank.bandcamp.com/releases
MINDFRAME (UK)
Originating from South London, formed in 2013. Mindframe are mixing dub, ska, hardcore and punk influences.
https://mindframe.bandcamp.com/
https://www.facebook.com/mindframe11/?fref=ts
https://soundcloud.com/mindframe-2
ZEX (CAN)
Punk from Ottawa, Canada. In the few years they have existed the band have already toured extensively around the globe including the United States, Malaysia, Indonesia, Singapore, Australia and New Zealand. The Ottawa quartet split the difference between heavy metal guitar action and punk attitude. The band features former Germ Attak member Jo Capitalicide (also of Iron Dogs) on guitar alongside vocalist Gretchen Steel, bassist Gab Sex and drummer Tasha. Can't wait for their live show!!
http://zexzexzex.bandcamp.com/
https://www.facebook.com/zexzexzexofficial/timeline
https://www.youtube.com/watch?v=CrGbT07DFTM
JEFFREY LEWIS & LOS BOLTS (US)
Bringing together a nihilistic world view, a self-deprecating sense of introspection and a healthy dollop of absurd humour. Born and raised New Yorker Jeffrey Lewis leads a double-life, as both a comic book writer/artist and a musician. His band also has a multi-faceted existence, restlessly exploring a stylistic swath from contemplative folk narratives to distortion-fueled garage rock to soundscape abstractions and more. They have toured the world, blowing minds all along the way, can't wait smile emoticon
www.TheJeffreyLewisSite.com
www.Facebook.com/JeffreyLewisBand
https://jeffreylewis.bandcamp.com/
https://www.youtube.com/watch?v=XW4mBIhAF64
https://www.youtube.com/watch?v=8iU1VtwxGlA
JONESTOWN ALOHA (NL)
Four piece hardcore punk band from Amsterdam. Always ready to put on a tight show. Let yourself be swept away in the maelstrom of punk, hardcore and heavy rock that lowers down when the band are on stage.
https://www.facebook.com/jonestownaloha/?fref=ts
http://jonestownaloha.bandcamp.com/
QELD (UK)
Anarcho hip-hop duo from Bristol, UK, Bob Savage (MC) and Jenre (MC/producer), They have been friends since they were young and have been making music and performing together since 2007. They have played gigs in Bristol, London, Manchester, Milan, Geneva amongst a few for numerous anarchist, antifascist and other radical benefits. After a few years of gigs and pushing music videos online QELD are about to release their debut album Kush Zombies in early 2016. Soulful, golden-era, boom-bap beats. Angry, funny and radical words.
Laugh, dance, fight!
https://www.facebook.com/theQELD
http://theqeld.net/
https://www.youtube.com/watch?v=WkmSoNCiMHY
BUG CENTRAL (UK)
Anarcho punk band straight outta London, England. Formed in 1996, they were staples of the 90s Hackney punk squatter scene. They were really active until 2002 then seemed to have taken a long break before kicking back to life in 2008. They play angry pissed off punk. " This is one kick ass album! if u like punk. and im not talking about that lame blink 182 punk i mean REAL FUCKING PUNK! ".
https://bugcentral.bandcamp.com/
https://www.facebook.com/Bug-Central-113566775345698/
https://www.youtube.com/watch?v=c2f26yNQaxc
KRANK (DE)
Punk from Hamburg, Germany. Its loud, pissed off and they will be headlining the festival on Sunday night!!
https://www.facebook.com/wirsindkrank/?fref=ts
https://krankpunk.bandcamp.com/
ANSCHLAG (DE)
Deutschpunk from Aachen, Germany. Expect fast, melodic and without compromise punk.
http://anschlag.eu/
https://www.facebook.com/AnschlagPunk/
https://www.reverbnation.com/anschlag3
BIVAK BOYS (NL)
Homegrown talent from the squatted marshland of Amsterdam!!
"Its a shame that producers leave their beats empty!! Thats not what they are meant for, ya know. Empty houses are occupied and in use, I do not see why it would be so different with beats. Empty is empty, we make no such distinctions." After a long and arduous search through the city streets we managed to track them down and get them on board. They squat empty beats or "KraakRemixes" and they're squatters, not rappers. They rap in Dutch and English and you are all allowed to sing a long to the beats that without doubt you will already know. Can't wait for this one!! Goodnight Copyright!!
CISTEM FAILURE (UK)
Anarcha feminist folk punk queers from all over the place, fighting the cisheteropatriarchy one banjo at a time… members include Momma Swift and Roverrr. "We are a travelling Anarchist feminist queer band. We are involved in different political projects/spaces/struggles and try to combine our words with our actions when we can. We play rowdy political banjo folkpunk. We would like to see more non binary peeps, Transfolk, and female asociated people play music, make zines, take the space in male-dominated music scenes that we all deserve to be part of."
http://cistemfailure.bandcamp.com/releases
THE END OF ERNE (BE)
Punk hc crust from Hellgium!! Being Around For Over 20 Years, Many Changes Of Line Up And Sharing The Stage With All Different Kinds Of Known! But Whats More Important! Unknown! Bands! That Circulated The Punk/Hardcore Scene In HEllgium,HOLland And GerMONEY!! Are here FASTER, STRONGER, CRITICAL And ANGRY! In You're Face! Punkrawk!
https://www.facebook.com/THE-END-OF-ERNIE-144437752324480/…
RATS FROM A SINKING SHIP (UK)
Rapper Lusty's savvy, often mercilessly funny lyrics make wise observations of bullshit in the news, coupled with Jamie's chainsaw riffs makes a gripping, searing-hot metal/punk crossover sound that incites the ensuing rebellion that must follow in order to reclaim the world as that of one belonging to individuals and not that of corporations, governments, cult religions, mass ideologies or thinking. Add Tom's dirty bomb basslines and Rob's thunderous drum beats, and Rats From a Sinking Ship present bird flickin', shit kickin' punk rap.
https://www.youtube.com/watch?v=HzZBP9Xs6Fo
https://www.facebook.com/Rats-From-A-Sinking-Ship-74368437…
RATBAG (UK)
Accordion driven high energy fronted ska punk outfit. "The band support numerous causes such as anti-fascist, marine conservation, women's rights, water aid, squatters' benefits and are often playing benefit shows to do our bit to help." Check out RatBag's debut album 'Funny Way To Make Ends Meet'.
https://www.facebook.com/RatBag-383986561628374/
https://soundcloud.com/ratbag-3
+++ KIDS PROGRAMME +++
– Kraakopoly; a cooperative live board game to help eachtother prepare to squat a house. Throw the big dice and beware of the police! with Eri Kinderpret
– Paint living art with bacteries from your own body or surroundigs together with Malcolm Kratz
– Kids film screening with some homemade popcorn…
Will be running on Saturday 7th and Sunday 8th afternoon.
+++ WORKSHOPS +++
-Animal 1st aid
Learn how to help your animal friends in case of emergency and to keep them happy and healthy. Please feel free to email us your questions, requests and comments.(Sign up by emailing diyworkshop@riseup.net)
-Beyond Europe
Back to the Future?! Anticapitalist offensive and antifascist resistance. The idea of the workshop is to exchange different experiences of antifascist resistance and to develop an idea of an common, radical offensive of the antiauthoritarian left.
Check: beyondeurope.net
-Cre-Act Sustaining activism.
Supporting the people who are in struggle for justice; A workshop about burnout awareness and prevention. cre-act.net
-Kickboxing.
(Sign up by emailing diyworkshop@riseup.net)
-Krav Maga.
-Women's Self-defense.
-Bass and Guitar repair.
-History of Dutch fascism and Antifascism;
A talk covering the past, present and future of the movement.
-Abortion rights / Feminism and Antifascism.
A speaker from New York talking about the importance of destigmatizing abortion and how it affects disfranchised communities the most. Moreover, why it is necessary to include feminism in the antifascist struggle. shoutyourabortion.com
-Anarchist Anti-Deportation Group Utrecht.
"The anarchism of the AAGU is given concrete form in action against the detention and exclusion of the victims of modern nationalism, the prisoners of Fort Nederland." aagu.nl
Starting with a short crash-course on Ukrainian politics, this talk will move on to talk about the far-right in Ukraine. More specifically, it intends to use Ukraine as a case study to reveal a long-standing marriage between (neo)liberalism, imperialism and fascism.
Chris is the author of the book 'Beeld en werkelijkheid achter de informatieoorlog', where he explores the influence of the West and Russia in Ukraine's civil war. He shows that a critical stance towards the West does not have to go along with an apology for Russia.
Little is known about it, but there are over a thousand refugee children with their parents living for years in so-called 'family locations' in the Netherlands, under the constant threat of deportation: every week, several families are arrested by the border police just before dawn and transferred to family prison Camp Zeist to be deported from there. Arrest, detention, deportation and disappearance of peers: these are very traumatic experiences for the children and young people in family locations.
"No child to the side!" organizes two demo tours in May to protest together with the refugees for an honest and unconditional Children's Amnesty Regulation and to stop arrests, detention and deportation.
The Vrije Bond (Free Union) is a group of people who are trying to build a different society: a society without hierarchies, without oppression and without exploitation of humans, animals and the environment; an anarchist society in which we deal with each other on a basis of equality. The members of the Vrije Bond are all working in their own way, in their own city, neighborhood, job or action group, to create such a society. They are doing this through direct action, by organizing discussions, writing articles or supplying information. The Vrije Bond serves as a platform to meet each other, to exchange experiences, to develop theory and strategies, but also to organize activities and to support them.
A 13-minute documentary video by AlterMidya (Philippines).
A drought, failed crop, hunger and government neglect pushed farmers to barricade the main highway in Kidapawan. North Cotabato (Philippines) last March 30, 2016. Darwin Sulang (23 years old) and his family joined the protest action with other starving peasant families. Many brought along small children and elderly members of their communities. They demanded the release of 15,000 sacks of rice that was promised to them as calamity aid months ago by the local government. They also asked for farm subsidies to help them recover from their failed crop.
Last April 1, the government sent police and Special Weapons and Tactics (SWAT) personnel to break up the barricade. While the peasants were negotiating to be allowed to continue their protest, the police charged with clubs and shields. The farmers tried to push the charging police back by throwing stones. The SWAT started firing their automatic rifles. The farmers were forced to retreat to a nearby church compound. The attack left at least two persons dead, more than a hundred injured, and more than 70 arrested for allegedly assaulting the police. Darwin was reported missing after the attack. His family found him dead in a morgue two days after the attack.
The farmers' protest drew the support of different sectors in the Philippines and in other countries. Unfazed by the brutal dispersal of their fellow farmers, thousands of peasants launch similar actions with the same demands in the region: "Food Not Bullets!"
+++ ACTIVITIES +++
-DOOMSDAY Bike Jousting
in the Vondel park, anarcho-punk Mexican bike crew. doomsday.mx
-Screen Printing.
Bring fabric, t-shirts or anything else you like to print it on! We'll have 10 different designs and 3 different paint colors for you to pick from.
-Sewing.
All the patches you screen print yourself or get from the bands, you can sew on right away. Do you have a stash of patches you never get around to work on? Bring those as well. It's DIY! So you can also learn how to use a sewing machine.
-Tattoos.
Get a tattoo from one of the 4 different artists we invited!
+++FILMS+++
+++ STALLS+++
More to follow, watch this space!!